Threadbear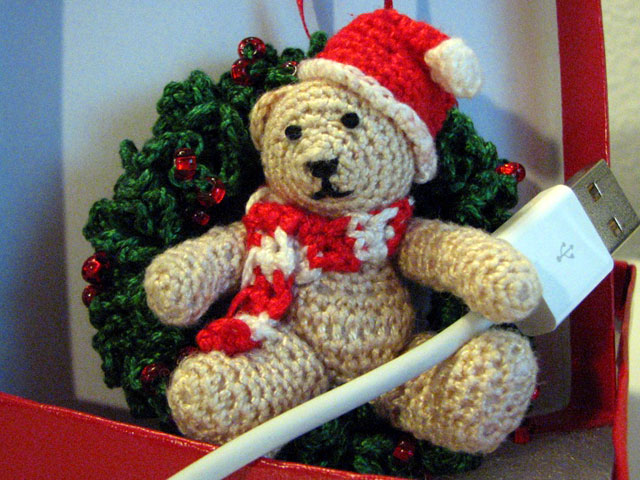 Let me tell you all about this tiny bear I crocheted. First, look how small it is compared to USB. Second, I think I found my purpose in life, and it's crocheting tiny bears.
We don't need more evidence that I'm the saddest, loneliest young woman alive - I'm writing this on a Saturday night - but I'm not being facetious when I say that crocheting this tiny bear was the singularly most rewarding experience of my life. I'm really moved by tiny objects, by things so small they take your breath away. I have vivid memories of excerpts from Indian in the Cupboard, our assigned reading in second grade, so I assume that's when my interest in tiny objects began.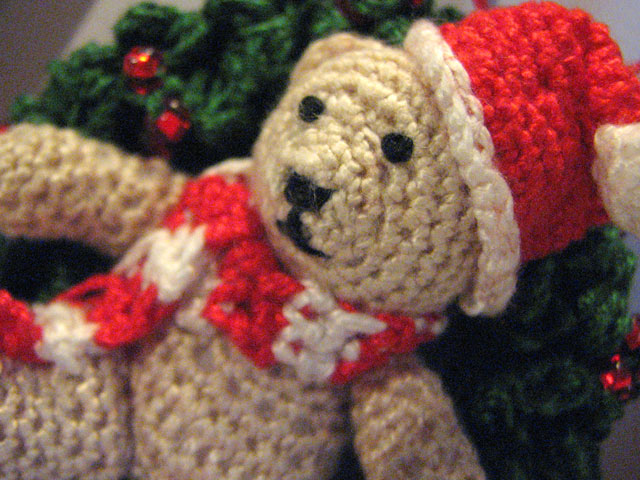 Production of the bear began over Thanksgiving weekend (and the weeks that followed), sitting on the sofa, watching/listening to movies and crocheting this tiny bear before I had to switch to audiobooks as the work demanded more of my visual attention. It was one of the best weekends of the year which is just tragic because I didn't speak to anyone or leave my apartment for three days. Over the course of this project I watched An Education, A Serious Man, Synecdoche, New York and District 9 which are four I absolutely loved and I'm probably going to watch them all again soon and allow myself to weep. I also watched Submarine, Blue Valentine, Hanna, Super 8 and The Safety of Objects, which I liked a lot. I finished listening to Catch-22 on audiobook which is my favorite work of fiction. Consuming culture is very passive, but I didn't feel guilty because my primary activity was producing something.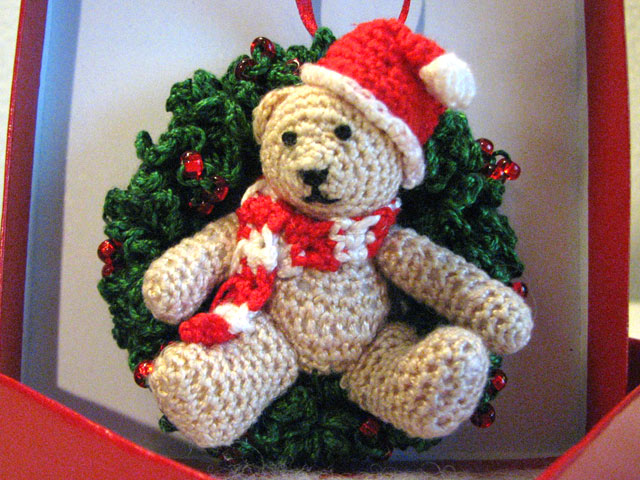 I crocheted the tiny bear as a Christmas gift for my boyfriend Andy's mom, or as he calls her, Mum, because he's from Northern Ireland and that's hot. We mutually decided that an appropriate gift would be a Christmas ornament since his parents were welcoming me into their home for the holidays, and it would be a nice symbolic gesture where the ornament could act as a proxy for me being there at Christmas forevermore. I decided on my own that it was more within my ethos to make the ornament myself. I found "Beary Christmas" by Sue Pendleton on Ravelry and was struck by the level of detail and complexity of the finished object compared to all the other patterns for ornaments on Ravelry. I wasn't sure I'd be able to pull it off, as my crochet skills are improvisational and intermediate at best, but I decided to take the risk. I was glad I did because I ended up creating something so fulfilling that I wanted to immediately leave my job and pursue crocheting tiny bears full-time.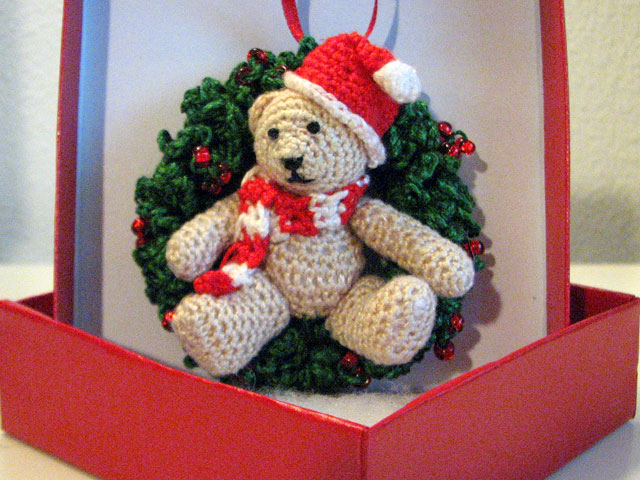 Sue Pendleton's work is beyond delightful. She has 81 patterns on Ravelry, all displaying an elevated level of craftsmanship and creativity. For instance, take her pattern Elspeth. It's a tiny, fully-realized baby bear that fits in the palm of your hand, a bear for whom a thimble is too big to wear as a hat. It delighted me to no end, and then my delight got cranked up to 11 when I noticed that one of Elspeth's accessories is AN EVEN TINIER BEAR. The tiny bear has its own tiny bear.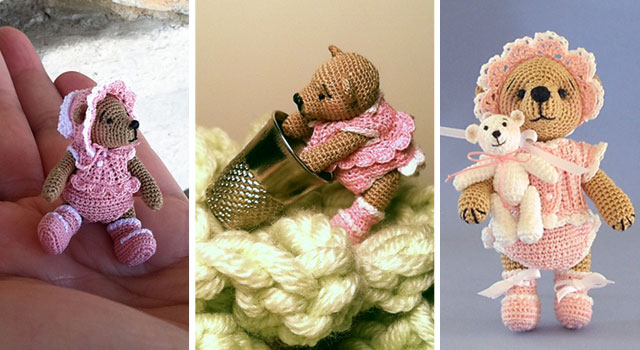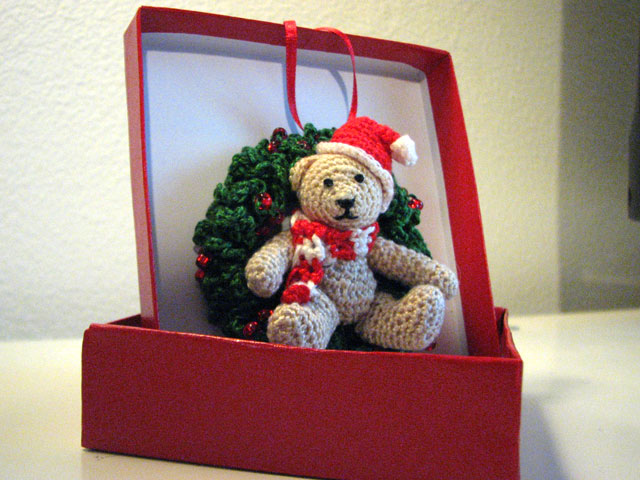 The same level of detail and care present in all of Sue Pendleton's finished objects also extended to the pattern I was sent for "Beary Christmas:" an 11 page, well-documented roadmap to creating my own tiny bear beyond the perfunctory list of materials and step-by-step instructions. Included were multiple photos for styling options, insets that documented techniques required to add a level of craftsmanship to the bear (did I mention that the bear is posable - the joints are done in such a way that allows this), a full list of resources for where to find materials and further information, a table intended for material substitution, and an appendix of abbreviations. The written instructions were very clear and a joy to follow. One thing I also appreciated about the pattern is the way it's licensed; you can use the pattern to make bears and sell them, so long as they're not mass-produced. This pattern is the reason I signed up for a Roth IRA; I want to retire as soon as possible because I feel like that phase of my life is the only one for which this would be an acceptable hobby so I really need to retire immediately because this is all I want to do.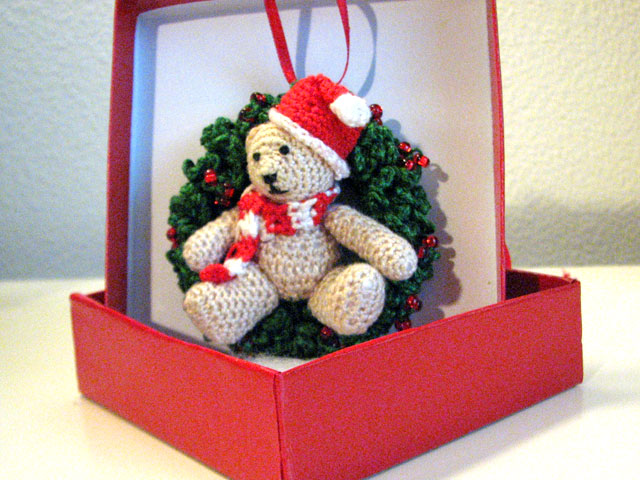 One website I found through the list of external resources included with the pattern was Teds from Threads, an online shop and gallery for people who crochet tiny bears. Until the moment I saw this page I was unaware that this was a niche. I know amigurumi is a thing, but this seems pretty specific. The offerings of the store are all quirky, and that amuses me. Magnets smaller than constricted pupils to make removable accessories adhere to your bear or not. Brushes to groom the nap of your bear's fur if you used fuzzy thread such as mohair or punch thread. Lilliputian eyes and noses. Buttons so small that they're probably not even a choking hazard.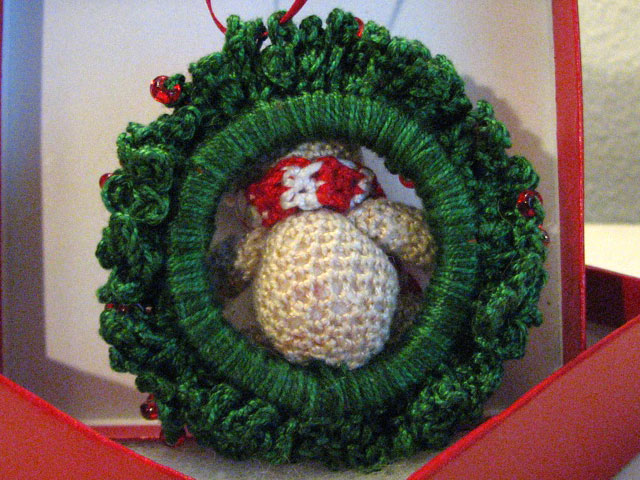 *TRIVIA*


I had to stuff the parts of the bear WITH TWEEZERS.


As I worked on it, I kept its parts in an Altoid tin.


It was crocheted not with yarn but with thread. ACTUAL THREAD.



The core of the wreath is a foam washer from a hardware store


The dimensions of the finished object were not measured, but the bear will fit in the palm of your hand without touching the base of your fingers