Endpaper Mittens
These are Endpaper Mittens based off of Eunny Jang's Endpaper Mitts, which I knit before in the summer of 2007 and loved them. In March 2008 I lost one and it was terrible.
Converting to mittens was easy; I knit two more pattern repeats for the fingers and decreased by four stitches every other row for the last half of the second pattern repeat. I improvised the thumb and they both came out imperfect but even I don't care. These are my first pair of mittens and I'm not sure how much I like how little control I have over my digits.
I'm also going to admit that I hate the colors I chose. There was a time when red on pink really inspired me but I think that it makes a really tragic color combination. I think pink and white or red and white would have been adorable. Also, pink and red reminds me of the Knitty photos of the Circle Gets the Square hat or whatever (what was the name of that game show where it was Whoopie Goldberg surrounded by a bunch of b-list celebrities on a tic-tac-toe grid?) and I don't think that's a very flattering hat so I'm nauseated by the colors by association.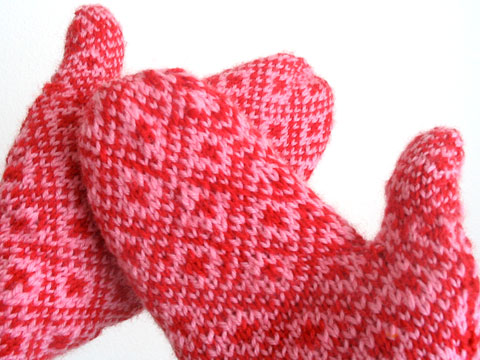 In this photo I am doing the thing that Presidents do when they punctuate key points.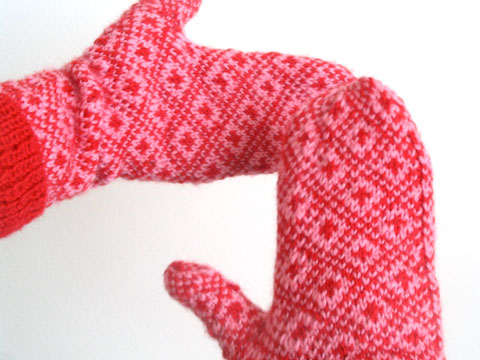 IN OTHER CRAFT NEWS I made my cat a sequinned bowtie that he won't wear.
ETA! I finally made a sequinned bowtie my cat is willing to wear. (I'm trying to secure a spot on Purroject Runway; one day you're in and the next day you're meow)