Winter Booties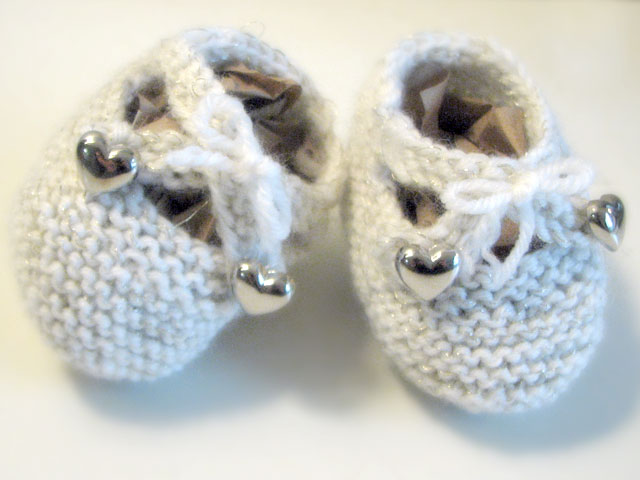 Hey I knit some booties for the future baby of my colleague, Annie. Annie is the Joan Holloway of the office I work at and, like Joan Holloway, she is going to have a baby next season. Annie was my chosen recipient in our office Secret Santa, where the constraints were four gifts at $5 each. I got some nice buttons for $3 and the rest was stuff I already had in my CRAFTSTASH.
Babies are kind of a BIG DEAL where I work; everyone is having them. I don't care for children, but this year the answer to the question, "Do you want kids?" went from "No" to "Probably not." THEN a few days ago I realized that children are like cats that you can show off in public, so I felt like I kind of understood the appeal. And then last night I dreamed I was PREGNANT and even though pregnancy strikes me as a little too sci-fi, I liked it in the dream, plus it explained why I'm so fat lately.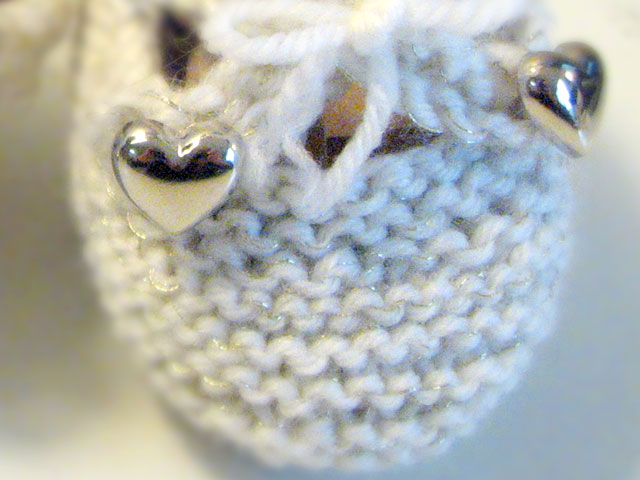 The booties were knit with white superwash Dalegarn Baby Ull (so that they're machine washable, although white yarn won't felt anyway), but I also used two strands of silver and gold thread along with the white yarn for a very classic holiday feel, though the booties are really appropriate for any time of the year except for after Labor Day, because they are technically white shoes. I got the idea from a cowl I got at American Eagle, which was cream colored and had gold and silver threading throughout.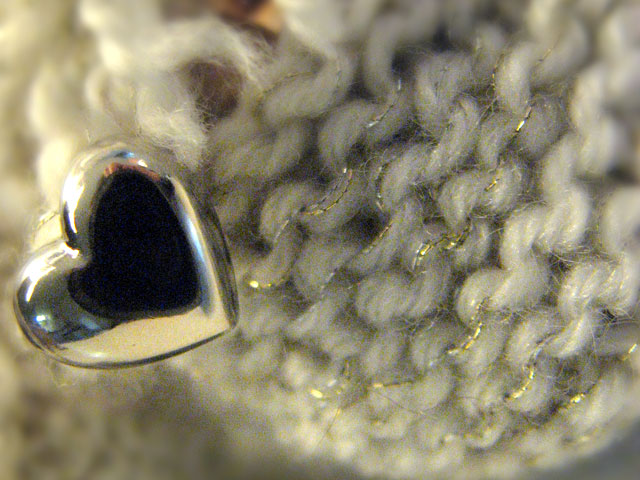 I listened to Brave New World on Audiobook as I knit these, as read by Michael Yorke. Audiobooks, I can't get over them. I had Douglas Adams himself read me Hitchikers Guide, audiobooks are like getting famous people to talk to you. The booties took about an evening. I tried different seaming techniques, I even knit one in a different pattern that featured stockinette and at the conclusion of the evening I ended up knitting four booties, because I'm not a perfectionist.
The pattern is familiar: Saartje's Booties, which I used for my friends Tony and Davida's infant's booties in 2010. I attempted stockinette booties but they didn't look whimsical enough. I secured the buttons with nylon thread, the strongest thread in the world, so that the buttons are not a choking hazard. I also was tempted to put these little bows on the front, because I'm on an embellishment kick.