Swell hat (not so swell.)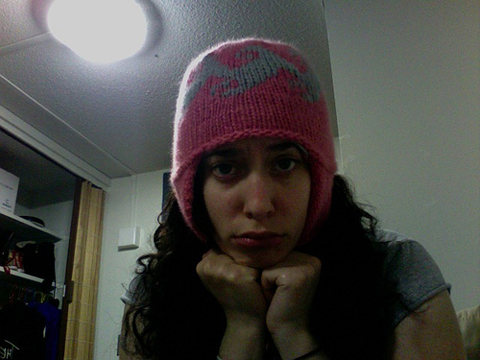 Check me out! Since I last posted the screen snapped off my laptop and the very next day I got a brand new Macbook Pro (savings are nice!). So now I've got one of them cameras on my display so I can take photos of my face!!
In my sculpture class a boy had one of them hats with earflaps and tassles and I put it on my head and told him I could make one. He didn't care but so I set forth to make Swell from Knitty. Never did I think I would ever make a hat with earflaps and tassles. I guess I forgot that I have a lot of hair because I made the small size and that was a big ole mistake. The thing fits more like a yarmulke than a hat. Right now I am wetblocking it over my head and I smell like a damp sheep-alpaca blend. I'm certain that snipping the floats will loosen the thing up a bit but since I don't wear hats with earflaps and tassles I'm probably going to give this thing to someone with a small head who would. I'm probably going to also add one of those pom poms but not a pom pom attached directly to the hat, but attached to a tail which is attached to the hat.
This is not the first time I have knit something kind of useless. Honestly, I only like ribbed hats. I keep starting them and quitting because they're so damn boring but I really need one for the winter. Secretly, I was very much hoping that it would reveal itself that I look totally cute in earflap-and-tassle-hats but alas. Before too long I'm about to finish my second of my pair of toe up Jaywalkers and may I say that they are gorgeous.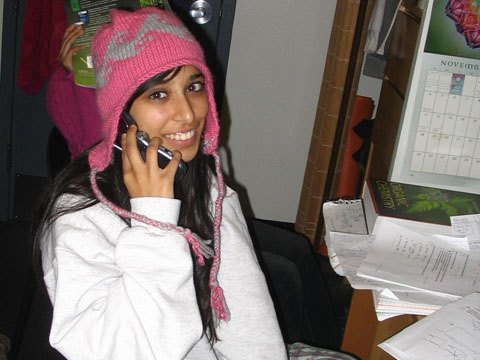 My roommate in the Swell hat after I added some length. Bless her heart.