Mom's Socks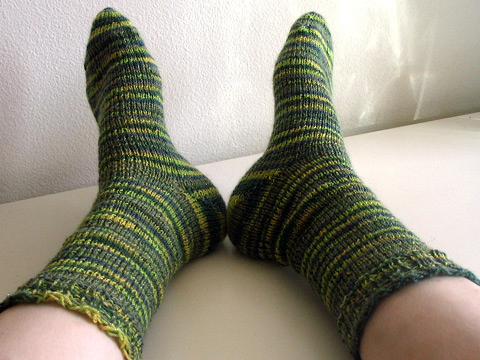 Not much to say about these socks. I wanted to knit socks but I don't wear knit socks because my feet overheat easily. Initially I started with the Hat Heel Pattern from Knitty and while I love how the heel looks like a little target with self-striping yarn, I thought that the gussets were an eyesore at the instep. I appreciate this pattern for its innovation but I feel that this pattern had too many ends to work in and that the gussets are awkward. Maybe something like a three-needle bind off at the heel could achieve the same definition while maintaining a seemless-looking instep? Who knows.
I used the Universal Toe Up Pattern with a figure-8 cast on (my first one!) and a short row heel, which I think looks very elegant. The yarn is Berroco Sox Metallic, which has enough going on that I decided to keep it simple (even ribbing was too distracting.) The yardage on this yarn is incredible; two adult socks took less than one ball. The socks are for my mother for her birthday.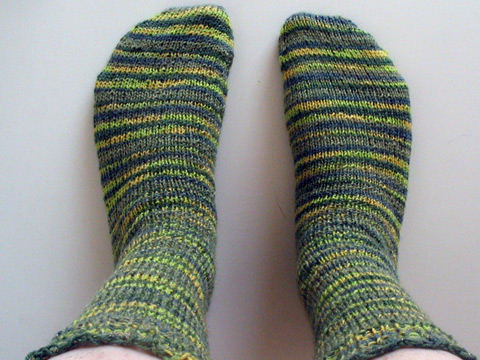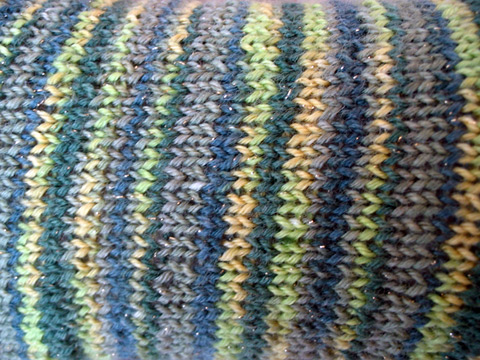 The socks have shimmery flecks of glitter in them.
Here's a little bit of trivia too: I have 10.2 miles of yarn in my stash!