Toronto Travel Bag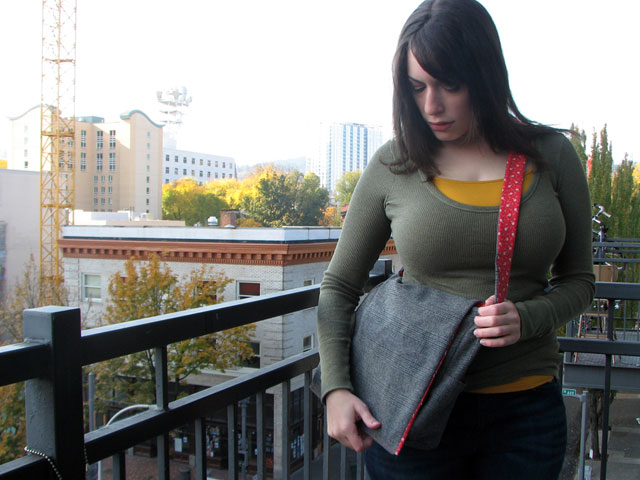 Hello! I know this blog has been idle, but that doesn't mean that I've been! I have an entire backlog of projects waiting to be documented. At the end of August I went to Toronto and created a very special bag for the occasion: a travel satchel that could essentially fit all the contents of my daily handbag, plus my MacBook Air. I had found the fabric for less than $2/yard at Knittn Kitten, a craft thrift store in Portland where I go to for notions and serendipitous finds. I love pairing charcoal gray and red, and that's the only thing I like about this bag.
I'm not a perfectionist, so this bag was planned poorly, and made in haste. I took a "this is a prototype" approach to it, because it helps me get over the anxiety associated with creating anything. I knew that if I made more bags in this style, I could then use what I've learned while constructing this particular version in future iterations and perfect those items down the line. I'm not completely happy with the way this bag handles, but it accomplishes what a bag should, which is to hold stuff while not falling apart in Toronto.
This bag has walls and a bottom, which was something I've never put in my handbags before; typically, they're tote style. I probably should have used very stiff interfacing for this part to help give it structure (I didn't have any interfacing), in additon to making the walls and the bottom maybe 1/2" to 1" narrower, because the bag tends to feel saggy and bulky. This contributes largely to the unhappiness I feel when using this bag.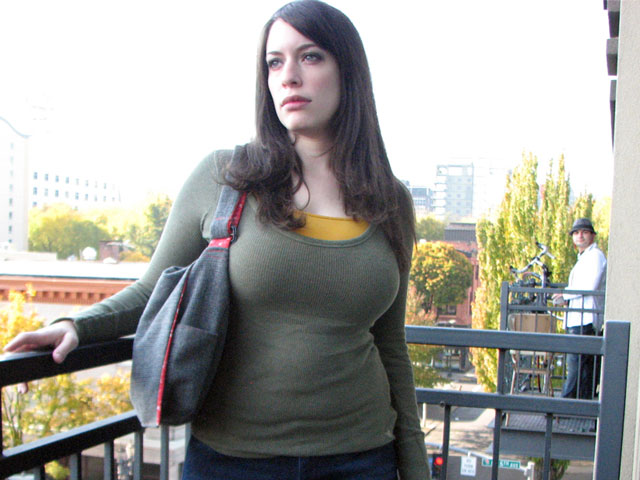 The bag also has a messenger bag style strap that can adjust to be a shoulder bag, or an across-the-chest bag. This was my first time doing such a thing, and I was impressed with how easy it was while following this tutorial from You SEW, girl!. Here I am wearing it as a shoulder bag, while also being photobombed by a neighbor.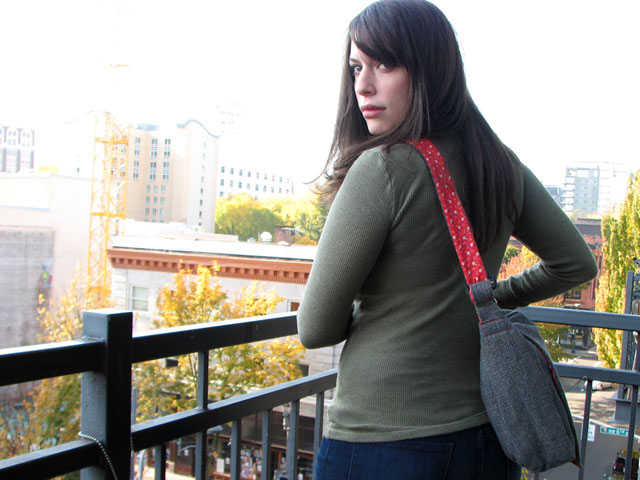 This bag also has two "lifestyle" features: an external pocket for a handheld mobile device (like a phone or mp3 player), and an internal sleeve for my MacBook Air, which separates it from the rest of the contents of the bag to keep it looking nice. The interior of the bag is maybe 1/16th of an inch too small in width for the Macbook Air, which means it's fussy.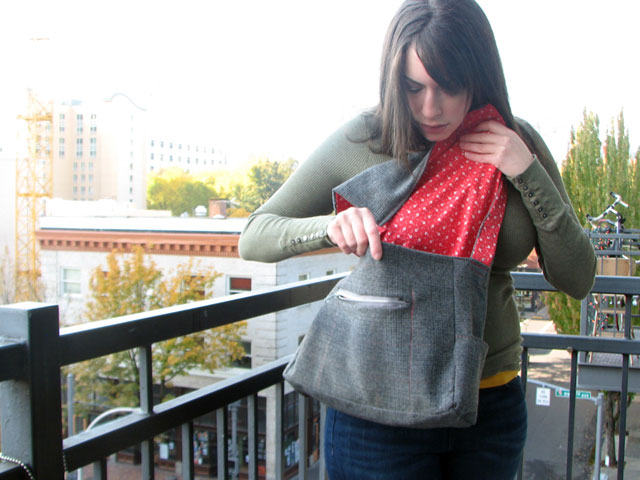 Lastly, this bag has a separate, smaller pocket for other personal items, like my 1 qt plastic bag full of lip gloss that I take with me when I travel.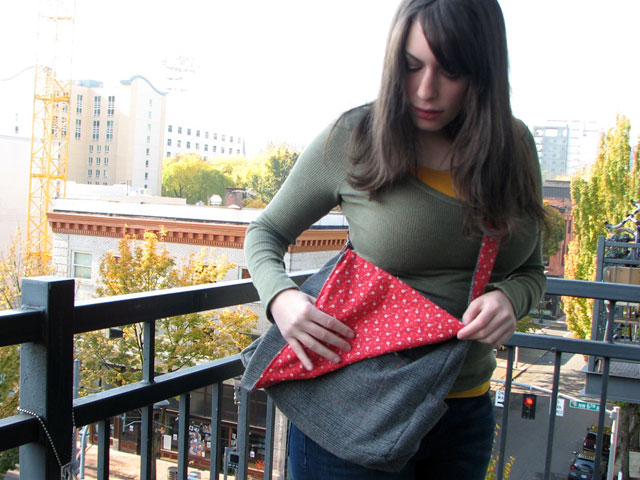 I love red and I love gray. I also love piquant linings.