Aunt Bag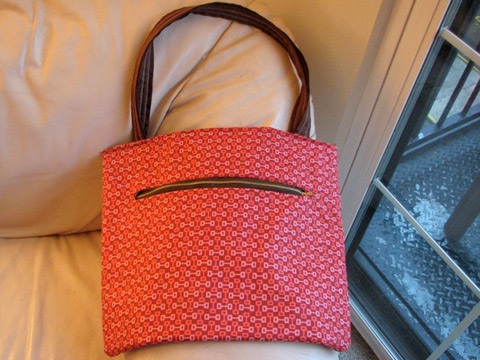 I sewed another handbag, this time for my Aunt Shelly, because she is enthusiastic about my hobbies. This one is a little bit larger than the last one and rectangular, not trapezoidal. Also my finishing techniques got a lot more polished and I'm very happy with what I learned. The outer fabric is a print I ordered from reprodepot.com in 2007 and the inner fabric and handles are from a top sheet. The bag is in a similar style as my last bag with a small pocket on the outside but this time there is no divider, just one pocket on the inside. It still offers more space though, because it's bigger overall. Also, I hid the seam allowance between the inner fabric and the interfacing, so technically this bag is reversible though I don't see why one would want to hide the retro pink fabric. I hope nobody is going to roll their eyes if I make another handbag, because I am currently in the process of doing so.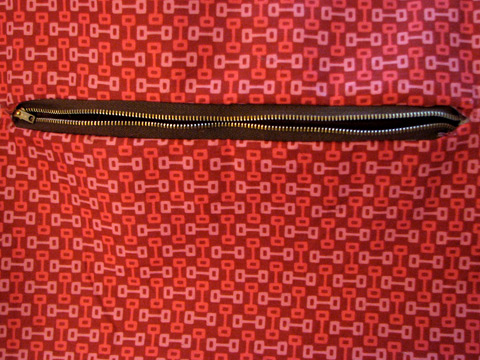 The zipper is set in rather than joining two pieces of fabric. The inner fabric matches the zipper fabric color.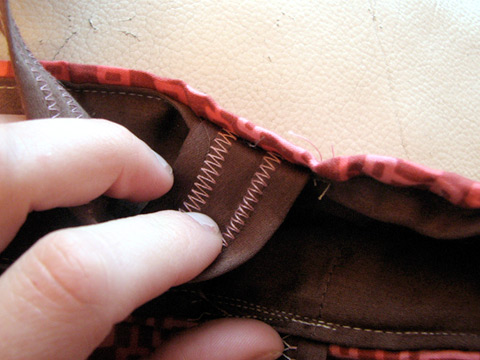 I sewed the handles with zig-zag stitch because it made them feel sturdier. Also I secured the handles between the outer fabric and the inner fabric such that you don't see the unfinished edge of the handles on the inside edge of the bag. You can also see here that the lining is brown, but it's not very exciting.