Koolhaas and Shedir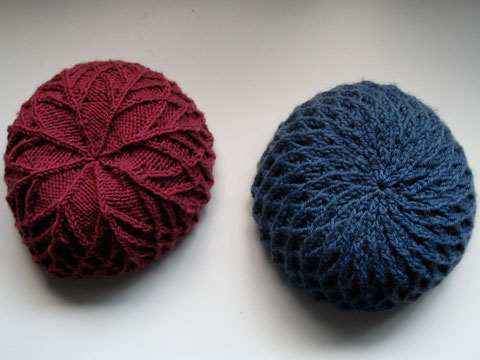 Hi how is everyone? I'm really good! Recently, Catskill Merino Sheep Farm featured my first Urchin beret on their blog. It was a total honor, and the yarn was given the name Mystery, inspired by the nickname I'd given it in my blog. So that was totally cool! Anyway I'd like to present something I knit many weeks ago: similar cabled hats for NEWLYWEDS Todd and Lisa.
I knit both hats in two different weights of Debbie Bliss Cashmerino so that they would both have an equivalent amount of cashmere (or not) and chose two cabled patterns so that the hats would have similar styles but not the same style.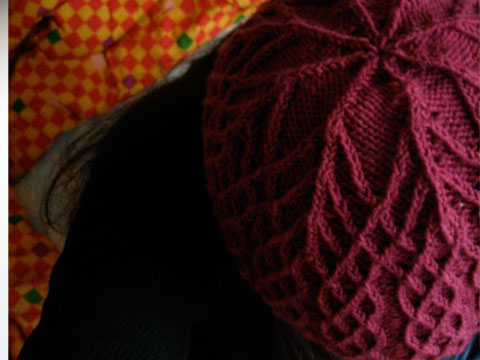 Shedir was knit in Debbie Bliss Cashmerino Baby in a cranberry-ish colorway. I went down to size 2 needles, which was a lesson I learned from my last (my first!) Shedir. I used a tubular cast on and I'm proud of it!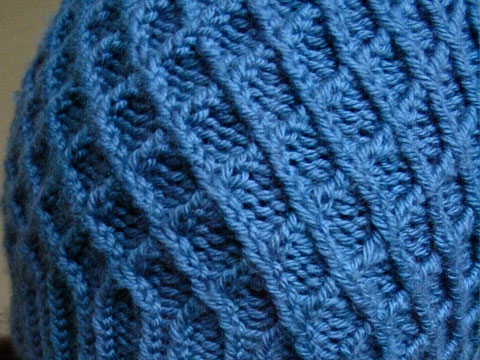 Koolhaas is the first pattern I ever purchased, and it took like three seconds to knit. I had to speed up the decreases because the hat was getting really long and I also LOST half a ball of yarn somewhere in Oregon. Anyway it is SUCH an easy pattern - only left-slanting cables which are much easier to do than right slanting ones.
Speaking of Interweave, Shayna Zelko, a friend from high school, was just published in Interweave's Winter 2008 issue! Hers is the Welt and Rib Cardigan and it's a turtleneck with some very subtle detailing going on. It's so gorgoeus. Congratulations to Shayna!