Slouchy Odessa Beret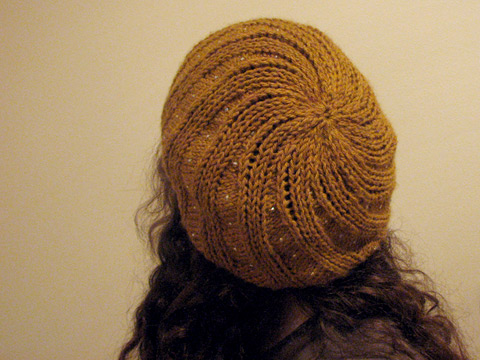 Hello! this hat is the Odessa hat, but knit as a slouchy beret. I don't think I've ever seen it knit as a slouchy hat, but I've also never looked. This is the hat I recognize the most in Portland, albeit without the beads, which I can't understand. The beads are the best part! The author of the pattern says that this hat would work beadlessly on men but I don't think so. The swirl is pretty feminine.
The yarn is Berroco Vintage in Chana Dal; I received this skein gratis in my gift bag at the Sock Summit Ravelry party and strung these like clear but opalescent beads onto it knowing I wanted this to be a slouchy, beaded beret of some sort. The color is a risk for me, which provided a lot of freedom. It was then that it occurred to me to knit the Odessa as a slouchy hat by knitting the pattern on size 10 needles, instead of size 6 as given (I did, however, knit the ribbing on 4s, per the pattern). An alternative was to increase the width of each pattern repeat and knit it on reasonable 8s, but this was easy enough. My other modification was that I knit the very first yarn overs through the back loops, because they have a tendency to look loose compared to the latter yarn overs. I think that Odessa as a pattern lends itself beautifully to a beret shape, and I'm pretty sure Berroco Vintage is my yarn soulmate. For one, it's very reasonably priced, and a lot of my aversion to sweater knitting is that it takes a lot of cost upfront, and I usually don't have that kind of money to spend on a sweater. Secondly, the wool content in Vintage is relatively low - only 40%, which means I'm not going to die of heatstroke in a sweater knit out of this, which is also important to me.