Cupcake Apron for Ruchi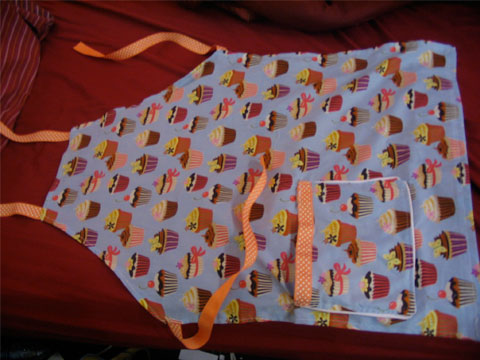 Hiiiii bloggg! This is another sewing project, a cupcake apron for my roommate Ruchi. This is the perfect gift because:



She is totally into cupcakes they are her favorite thing.


She recently picked up the hobby of baking and aprons are a staple of baking.


It's handmade, which is a requirement for my gift-giving.


I got the fabric, ribbon, and pattern from jcarolinecreative, which has such an extensive selection (yay!) but I drove myself insane trying to find the perfect fabric as Ruchi would have loved so many. Woven fabric is so cheap compared to yarn and I definitely respond more to textiles. Plus sewing is fast and with each thing I make I get better and better. I've sort of plateaued with knitting; I started doing things my own way rather than learning the proper techniques and that has inhibited my learning.
There are some technical aspects about the apron which aren't perfect and they betray that the item is handmade, but that gives it charm. I finally learned to sew in a straight line (that little flipper thing that "locks" the fabric in place when you flip it down? It totally needs to be down!) and I'm proud of that and I cut the pattern out on my own using Kraft Paper, which I have a ton of that I didn't know how to ditch…until now. NOW I CAN MAKE PATTERNS.
I also made piping, which was kind of a pain in the ass in the way that I know that with enough practice I will master it. The ribbon detail on the pocket is an afterthought and is therefore not neat. I had to take that part from the neckstraps (like a graft) and I added a snap enclosure for it because it could no longer be tied around the neck or fit over the head if I had sewn the edges to make like a closed neck. The apron is tied around the back.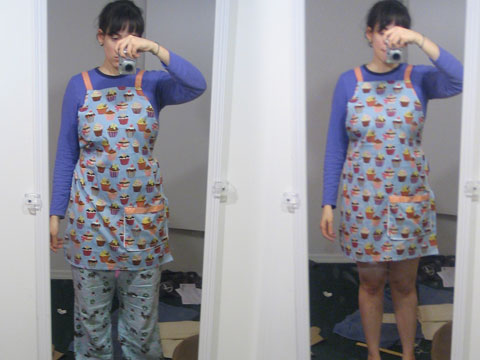 Pants vs no pants.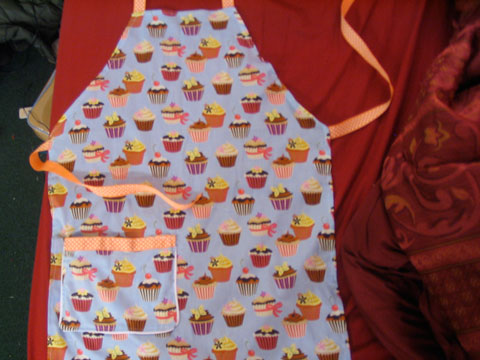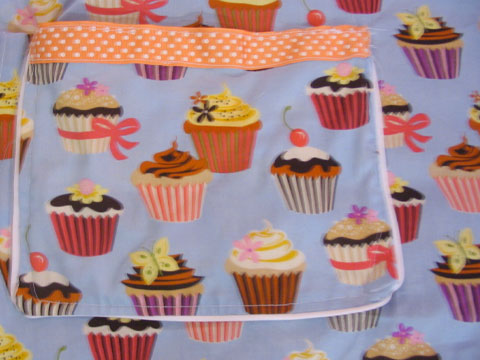 Sloppy details, but an attempt yet.