Mama Chloe's Authentic Pizza Suprema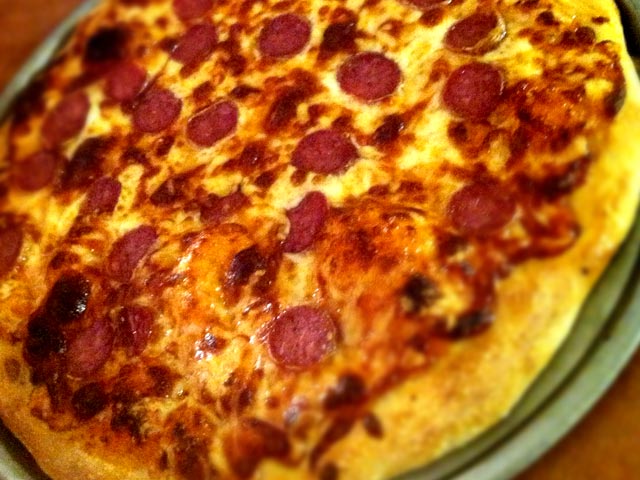 Portland's Oven & Shaker is the best. They have my favorite cocktail, my favorite charcuterie and my favorite pizza. They're located a convenient six-block walk from my apartment, but I prefer to reserve eating out for special occasions. I've had a few of their pizzas but my favorite is their salami pizza. It has provalone picante, salami and is drizzled with honey on top. This recipe, Mama Chloe's Authentic Pizza Suprema attempts to recreate this at home.
Ingredients


Pizza dough - this recipe makes two servings. Also I do a 24-hour slow rise in the fridge.
2 cloves garlic
3 campari tomatoes
6 oz mozzarella
6 oz parmesan
16 or 24 slices salumi
1 tbsp tomato paste
1 tsp flour
1 tsp sugar
pinch salt, dried oregano, rosemary, basil to taste
honey for drizzling


I'm sure you can substitute the campari tomatoes for any similarly-sized tomato, parmesan for another hard, sharp cheese, and choose whichever cured meat works for you. I've used salami and I've used chorizo. I also like to use a multiple of 8 for the number of meat slices.
The Method
Preheat your oven as high as it will go; mine goes to 550° F.
Preparation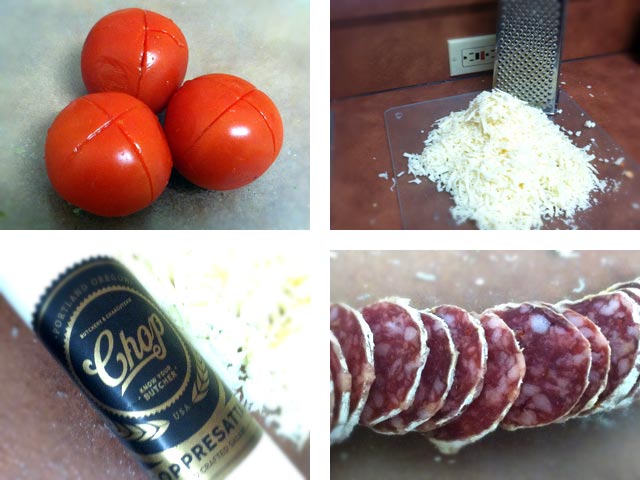 Roast two cloves garlic in the preheating oven while you prepare the rest of the ingredients.
Cut crosses in the bottoms of the tomatoes and steam them until they open up. While the tomatoes are steaming, grate your parmesan and mozzarella, combine them well and set aside. I know the New York Times recommends against shredding your mozzarella but the Times has also tried to fearmonger HTML. Slice up your salami nice n' thin.
The Sauce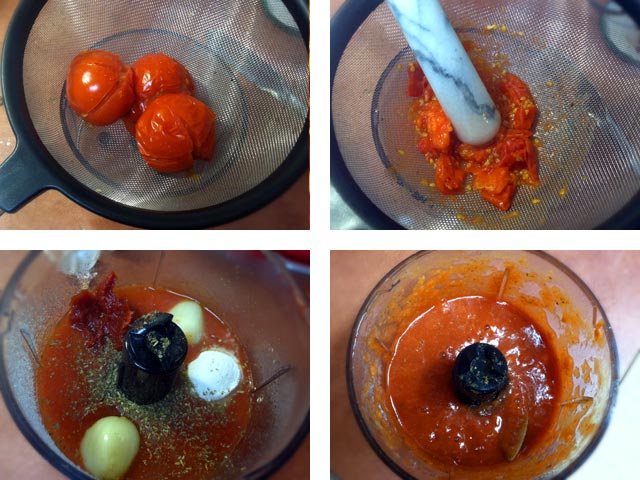 Your tomatoes should be done at this point. Transfer them to a strainer set over the receptacle of a food processor and express the juice while filtering the seeds and skin. Discard solids.
To the tomato juice, add your tomato paste, flour, sugar, salt and herbs. By now your garlic should be ready and fragrant, add that too. If not, toss your dough, and then retrieve the garlic. Process until smooth.
Assembly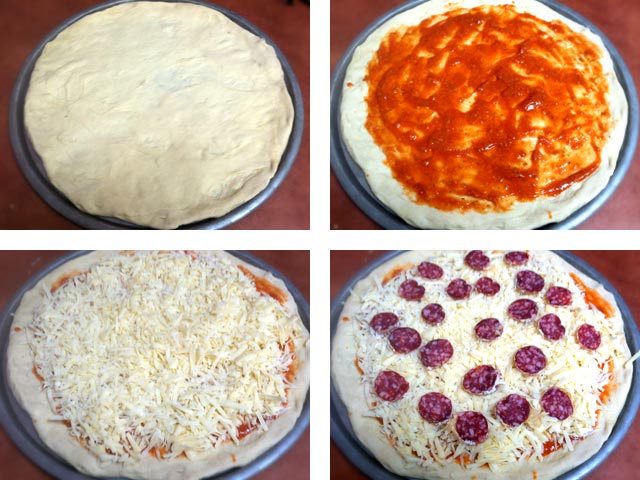 Toss the dough. Don't roll it out. There are a bunch of tutorials on how to shape pizza dough, there isn't even one I can recommend over the others. I'm not an expert here but I just work it out from the center and spin it around my hand until it's even like it's no big deal.
Starting from the center, apply your sauce to within 1" of the edge of the crust. My wooden spoon was in the shop, so I used a pastry brush here. Italians everywhere faint.
Apply cheese liberally. Apply salami. I usually keep in mind that the pizza wheel will cross the pizza four times so I try to keep four trajectories in mind as to avoid having to bisect a piece of meat. Maybe that's overthinking it, because as your cheese bubbles, your pizza surface will develop a varied landscape and your carefully placed morsels of meat will shift.
Bake for 15-17 minutes, but this depends on your oven. I turn the oven light on and watch it through the window. I judge it on how it looks, just like everything else in life. Remember that things continue to release heat after you stop applying heat to them, so I try to take it out a few moments early.
Drizzle liberally with honey. Go out of your comfort zone. Seriously go out of your comfort zone.
That's Amore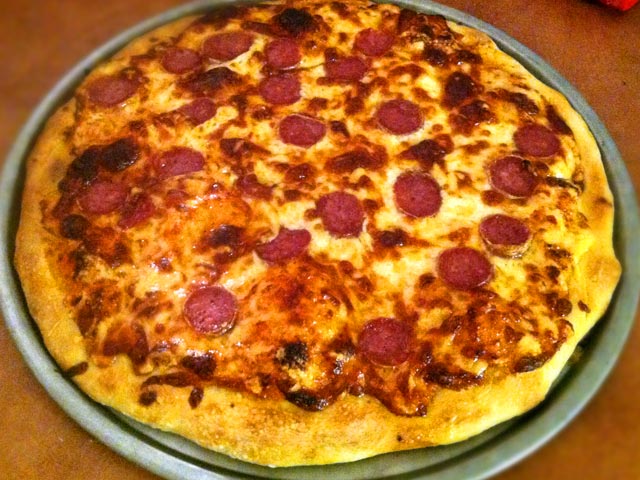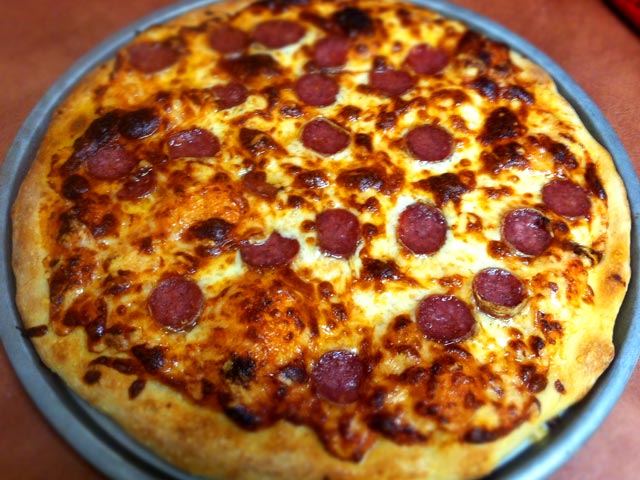 Congratulations, you have made Mama Chloe's Authentic Pizza Suprema.