Brulee Scarf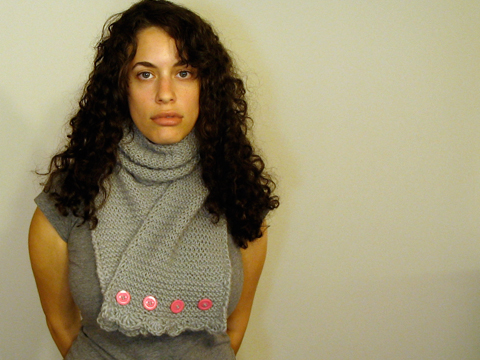 Hi it's been awhile. My head's felt like a FEMA trailer lately and I haven't been inspired. Since this is a craft blog and not a Chloe blog, thankfully I don't feel obligated to talk about it further.
When Cirilia posted pictures of her new scarf on her flickr I knew I wanted to knit it. So I was extra excited to discover that she had designed it.
This pattern was ideal for me because I didn't want anything too challenging for my emergence out of my black hole. I got to use up some stash yarn that I had otherwise no plans for, and I happened to have four large buttons on hand. I like pink and gray.
I think this scarf looks awesome because of the interest that the shell lining adds, and the cool button functionality. Since it's a fast garter stitch scarf, it's ideal for gifts too.